Domain names at Gandi
Security with DNSSEC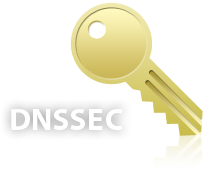 DNSSEC is a security extension of the DNS protocol. It digitally signs the information published by DNS with a set of encrypted keys, making them harder to fake, and thus more secure.
This option improves the security of your domain name*. You can introduce up to 4 keys in the protection interface of your domain name by DNSSEC.
DNSSEC is available in the main extensions (.COM, .NET, .ORG, .BIZ, .EU, .FR) and many others with a list that is evolving.
* if the Registry of this extension offers DNSSEC