Why choose Gandi for your hosting service?
Automatic backups
Archive and secure your data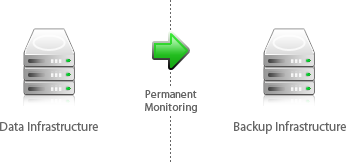 Our backup robot 'GSync' is a lightweight agent will constantly survey changes in the directories you want to save. You will regularly have one backup per day in an external disk.
Next , in function with your configuration, it will save previous versions. By default, easily modifiable, you will have a permanent version of your data available, the three versions dated by three hours, three versions a day and two dated versions per month.

The use of our robot is not mandatory: you can choose to use another system if you prefer. The robot code is published under the GPL license http://open.gandi.net.

You can also improve it and submit it to our technical team!