Why choose Gandi for your hosting service?
Power on demand
What you need, when you need it most
Gandi's hosting service is not defined by an array of complicated packages or physical servers, but rather, by your freedom to fine-tune your VPS to meet your real-time needs.

Scaling your server is easy: you determine what you need, when you want, and pay for just that!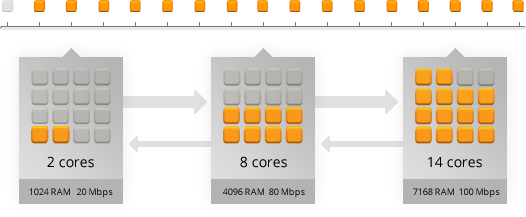 Only pay for what you need.

Our offer comes at a cost that's under your control and can be modified at any time, as well as reduced prices for larger purchases. Our prices are totally transparent: the hourly and estimated monthly cost of each resource that you purchase is clearly labeled with both the number of credits and its equivalent in your currency. You can purchase credit packs (150,000, 1,000,000 and 2,000,000) which give you significant savings with your commitment.

There are no subscription or cancellation charges, meaning that you only pay for what you actually use. Welcome to Gandi!

Your server is available in less than 5 minutes.

In just 5 minutes, your hosting resources can be chosen, ordered, and ready to use.

We are constantly working to reduce the amount of time it takes to get your services up and running. In most cases, the increase or decrease in resources occurs nearly instantly: play a video game online and tweak the power of your server without stopping the game!