Several access points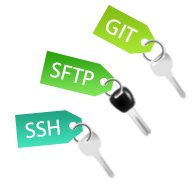 With Gandi Simple Hosting, you can access your files online in several different ways:
SFTP: sFTP is a variant of the more familiar FTP, though it is more secure. Most programs that allow FTP also allow for transferring files by sFTP, and there are many available to choose from.
SSH: SSH is mainly used by UNIX or Linux system administrators. You can access your Simple Hosting instance by SSH console if you would like to manage your files in this way.
These methods are not mutually exclusive; you may use them all if you want (we don't advise using them all at the same time however ;)).