Instance families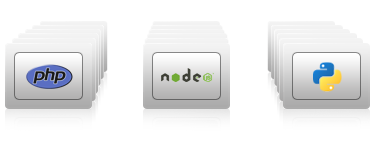 With Simple Hosting, an "instance" is just like a server. Simply choose the instance family and database type, and the size, give it a name, and your instance is up!
Simple Hosting is a multi-platform system by design, and we continue to add new instance families on a regular basis. We currently offer the following language types:
PHP versions 5.6 and 7
Node.js in the version of your choice
Python version 2.7
Ruby version 1.9.3
That you can associate to the following database types (unlimited number or size):
MySQL versions 5.6 (Percona) and 5.5
PostgreSQL versions 9.4 and 9.2
MongoDB version 2.4
We are in the process of adding even more instances, and have made a wishlist available to you so you can tell us what you would like us to add.