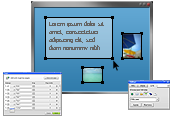 No technical experience necessary!
SiteMaker is a revolutionary product that allows you to create and modify your website in real time, no technical experience necessary! Even experienced webmasters will appreciate the time saved in effortlessly creating high-quality websites.

To help you get started, SiteMaker comes with many creative themes that you can choose from and personalize to meet your needs and content.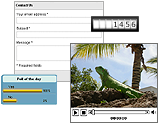 Your website, with all options included
Beginning with the Starter pack, many free features can be added to your website to help you with search engine optimization, forums, chat, photo galleries, or even an integrated RSS feed, just to name a few.
Choose your theme, your widgets, features, move the sections around however you want and modify their size, appearances etc. You can change your site's content on the fly, and add photos or videos without any hassle...it doesn't get any easier than this!
100% intuitive
50 pages
Ad free
Member management
500MB of disk space
10GB of monthly traffic
Dynamic widgets
100% intuitive
Unlimited pages
Ad free
2GB of disk space
Member management
100GB of monthly traffic
Dynamic widgets
Ecommerce module