Paris Web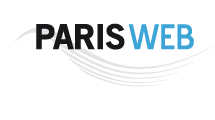 The association Paris-web was created in 2005 and is managed by web professionals with an obsession for quality and accessibility. It's goal is to promote the development of a web that is accessible and of high quality.
---
This objective includes, for example, the following subjects:
the use of public norms and standards on the web, and in particular, those put forward by the World Web Consorsium (W3C),
the improvement in accessibility and compatibility of web content aimed at the general public, with an emphasis on people with disabilities or unconventional browsers,
the study of web application ergonomy,
reflections on new technology and its application,
finding the best conception methods for web applications.


The Paris Web conference is considered by many French web professionals as the best French-speaking conference for webmasters. The 2009 edition brought together 600 people for two days of conferences and a day of workshops, organized by about a dozen volunteers.

Information on the upcoming Paris Web conference, in addition to videos of past editions can found at www.paris-web.fr Back to the list