New TLDs
New TLDs?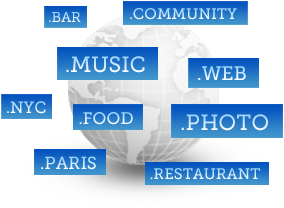 In 2012, the highest authority in domain name regulation, ICANN, authorized the creation of nearly 2,000 new extensions over the next two years (2013-2014). These extensions have been registered by specific companies and registries, and include trademark extensions like .google or .danone, community based extensions like .archi, or .immo, location extensions like .stockholm or .nyc, and even languages. Of course, the vast majority are general extensions (e.g. .music, .photo, .love). Because we are mere humans, we know we won't be able to offer all these extensions right away, and support them to the standard that you, our customers, have come to expect from us. That's why we have selected about a third of them that we think you will be most interested in.
Of course, all of these extensions will not be launched at the same time, but rather, they will be rolled out over a two-year period and it will quickly become impossible to monitor all these different openings if you are interested in multiple new extensions. This is why starting today, we are letting you pre-reserve, free of charge, domains that interest you, so that you can be kept up do date with regards to their extensions and if you want, transform your reservation into a purchase order when the time comes.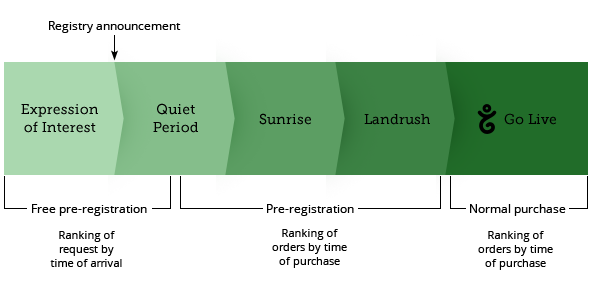 How does it work?
You can pre-reserve as many domains as you want, for free: you will only pay when you confirm that you want to register them. When we get important information from one of the registries (dates, conditions, prices), we will inform you directly. You will then need to convert your free pre-reservation into a pre-registration. By doing this, you confirm that you meet the extension's conditions and you will keep your position in line. What position? In addition to letting you pre-reserve domains that interest you, we have put in place a system that keeps your place in line in terms of when you made your request. For example, if you are the first person to pre-reserve a domain, we will submit your order first when the extension opens. This will not guarantee that you will obtain it, however, because other registrars may have also made requests for registering the domain, but you can be assured that Gandi will place your order first among the orders that we send to the registry.
This contributes to a greater transparency, as well as a way to inform you of the presence or not of similar registration requests that we have noted in our database.
And if you are not first?
There is a possibility that some orders that were placed before yours were not completed, notably in the event of TLDs that require documented proof that you meet their registration requirements. Once we have been informed by the registry, we will send information to all the applicants of the extension in question. We will leave a reasonable time period for everyone to convert their free pre-reservations into pre-registrations at the TLD's price.
After the conversion period has expired, if an pre-reservation that was made first was not converted into a pre-registration, it will lose its place in line.